Would you like to know how to get PR for small businesses so you can become more #VISIBLE and have more clients finding you?
Would you like the chance to practise your pitch to a highly respected business journalist?
If the answer is yes, then join our fun, interactive and informative masterclass!
5.45pm                 Arrival and glass of wine
6 – 7pm                 9 Ideas on How to Find your Press Hook
7-8pm                   Your chance to personally pitch to guest journalist, Harriet Minter
8-8.30pm              Overview of How to Get PR for your Business Checklist
8.30pm                 Close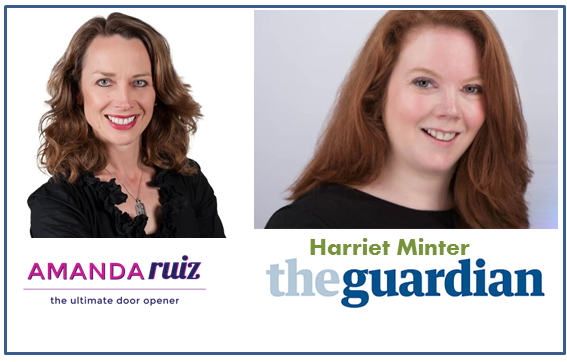 Knowing how to pitch to the press should be an essential part of your marketing mix being an entrepreneur, however you may not know where or how to start or you may have used PR agencies in the past and are now ready to go it alone and take charge of your own self-promotion. After all, publicity is free, adverts are expensive and not always effective!
Amanda Ruiz has created a proven 7 step process called The 7 Secrets on How to Get into the Press that has seen her secure press coverage in many glossy magazines and national publications from The Guardian, Vogue, Marie Claire, Woman and Home, Red, The Independent, The Sunday Times, Daily Mail, The Mirror to name a few.
Amanda is passionate about teaching her fellow entrepreneurs the essential 'life business skill' as she calls it that is DIY PR. After all, if you are not seeking publicity and promotion for your business, then who is? (unless of course you are spending £1000's on expensive PR agencies?).
Starting at 6pm prompt, in this 60 minute masterclass you will discover:
9 ideas on potential press angles (also known as press hooks)
The Do's and Don'ts of pitching to the Press
How not to get blacklisted by your dream journalist (Amanda has the t-shirt!)
At 7pm the tables will be turned as it will be your chance to ask Harriet Minter your burning 'how to get my business into the press?' questions and you can even pitch your story or idea to her which she will critique.
Harriet was recently an expert guest on Amanda's Q+A session for her 8 week course, The 7 Secrets on How to get into the Press and the students were given excellent ideas on story angles from the point of view of a seasoned journalist who receives up to 300 pitching emails a day! They all went away with new ideas that were specific to their very businesses.
Harriet is Head of Women in Leadership for The Guardian and is an amazing supporter of entrepreneurs. She has given several excellent Ted Talks as she shows the audiences to think differently and uses humour, intelligence and wit to get her message across.
Amanda says: "Harriet gave golden nugget after golden nugget on the Q+A session, so much so that I had to get the hour call transcribed so we could all absorb and re-absorb the facts – it turned out to be 25 full pages of expert journalistic knowledge!"
Client testimonials:
"Amanda Ruiz is the Mary Poppins of PR; she makes the medicine go down in the most delightful way!"
"Amanda was the best professional recommendation I've received"
"Small Business Saturday UK were delighted to have Amanda Ruiz host an event which was live steamed as part of our Inspire Series of workshops for small businesses.  The event was great, Amanda was a fabulous speaker, everyone in the room was clearly engaged and it was really interactive – exactly what we were after!
So come armed with your note books and your 30 second pitch! You will walk away from the event inspired and reinvigorated to kick-start your own PR with instantly implementable tips you can put in to practise the following day!
Our event partner is TY Soho:
4 Noel Street London W1F 8GB GB
TY Soho is a café upstairs offering delicious snacks and drinks. Downstairs, where the event will be held is in the funky creative Member's Area with graffiti on the walls, comfy arm chairs and simply a great space for an event PLUS it's in the centre of London!